Tampa, Fla. – October 22, 2018 – Darren Impson, owner of Paul Davis of Tampa, a leading provider of fire and water damage clean up and restoration services, recently teamed up with Fire Investigators of Florida, Inc. for a live burn demonstration during the organization's Annual Training Conference and General Meeting held from October 15 until 18 in Tampa.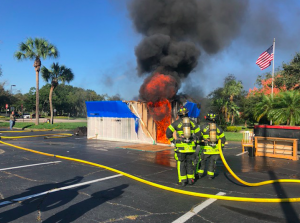 The locally owned restoration franchise office donated staff time with labor to build the fire structure along with the International Association of Arson Investigators (IAAI). The unique educational experience for Tampa Bay area firefighters and industry professionals included instruction and demonstrations covering the Fire Investigators of Florida course topic, Fire Origin Pattern Persistence in Post Flash-Over Compartment Fires.
According to Impson, the 10-square-foot by 24-square-foot burn cell was built by Paul Davis to simulate a structural house fire. An accelerant fire was started in the back corner of the building with one way out. Smoke and fire billowed through the house making its way to the front door to find oxygen as part of instruction about the third side of the "Fire Triangle". Tampa Fire Rescue was on hand to oversee the fire demonstration and to extinguish the smoke and flames in the parking lot at the Sheraton Tampa Brandon Hotel, 10221 Princess Palm Ave. in Tampa.
Paul Davis has provided more than 30 years of service to local customers in Tampa Bay.
Darren Impson, has owned and operated the Paul Davis office in Tampa for more than 15 years. Impson's firm in Tampa is among the top ten producing Paul Davis offices in the U.S. with 50 full time restoration technicians and professionals. Impson also owns and operates  the Paul Davis franchise of Pasco and Hernando counties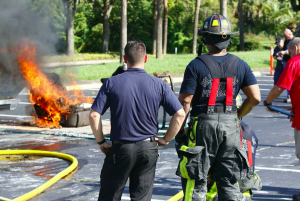 "Executing the company's outstanding emergency restoration services involves working with our firefighters, first responders, customers and insurance professionals. With extensive and in-depth knowledge of processes and the latest in restoration, repair, and reconstruction technologies, we strive to exceed property owners' expectations," Impson said. "The company has a strong history of professional success founded on high ethics, principles and relationships," he said. "This aligns with our personal beliefs of always doing the right thing and delivering on promises. We pride ourselves on friendly and caring customer service and extraordinary response and helping the local community during times of catastrophic need."
The Paul Davis of Tampa office is located at 1611 Allison Woods Lane in Tampa. For more information, contact Darren Impson at (813) 984-2700 or email admin@pdrtampa.com. Visit the website at https://tampa.pauldavis.com.